Shaping the Early Discourse of Southeast Asian Contemporary Art: Japan, Australia and Singapore
Date: Monday, 22nd February 2016
Time: 7pm-9pm
Venue: Block F, Room 202, LASALLE College of the Arts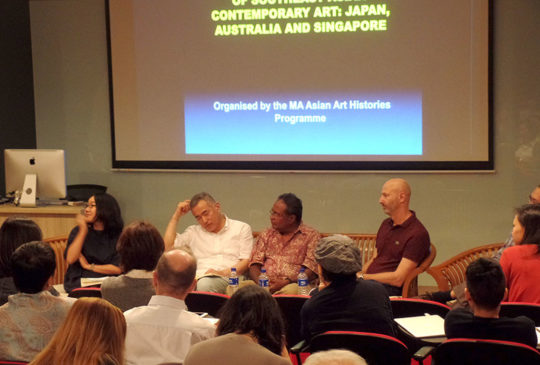 Synopsis:
This forum is intended to be a conversation between three curators from Japan, Australia and Singapore who were involved in exhibitions that had influenced and shaped the early discourse of Southeast Asian contemporary art. It is hoped that the forum could foreground some key issues on the relationship between exhibitions and the writing of art histories in Southeast Asia. Some of these issues are the forging of a regional identity, canon-making, as well as how exhibitions might be driven by an economic and geopolitical agenda.
Speakers:
Professor Masahiro Ushiroshoji (Kyushu University)
Russell Storer (Senior Curator, National Gallery Singapore)
T.K. Sabapathy (Art Historian)
Moderator:
Jeffrey Say (Programme Leader, MA Asian Art Histories Programme)
A recording of the lecture can be viewed here.